When it comes to weddings, the focus tends to fall so much on the bride and finding The Dress. I'm not complaining (really) but we need to make sure our handsome groom's have their attire, too! And for that, we went to Tux-Xpress in North Scottsdale.
When we went to the bridal show, there were Men's Warehouse ads everywhere. But I love to support a locally-owned business whenever possible. Especially one that specializes in tuxedos.
Tux-Xpress has extremely affordable tuxedo and suit rentals. The owner, Jim, was knowledgable, friendly and dispelled many of the myths surrounding tuxedo rentals. Did you know, for example, that at many of these "Big Box" places, the guys can't even try on the tuxedo jacket? They are actually trying on suit jackets in store, which are sized differently.
We were in the market for something a bit more modern yet classic so went with the The Clyde Shadow Stripe Tuxedo for the entire bridal party. And, I must say, they looked quite dapper.
I decided to forgo the matchy-matchy bridesmaid-groomsmen thing and instead, went with classic black ties for the gents and ivory for my groom to match my dress. Dressing up the groomsmen in blush-colored ties probably would have made them cringe! If you are, however, looking for matching vests and ties, there are more than 70 colors available at Tux-Xpress!
Tuxedo rentals at Tux-Xpress include everything the guys will need for the Big Day: Jacket, pants, shirt, bow tie, cummerbund, cuff links, suspenders and a choice of silver or gold metal studs. Vest rentals are only $5 extra and, as I mentioned, there are sooo many colors to choose from. Our ring bearer looked oh-so-handsome in his mini tux, too, which we had match the groom.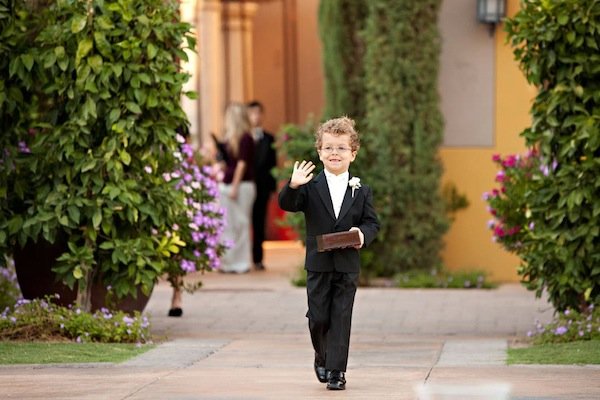 Photos: Jane Z Photography
Sponsored by Tux-Xpress
For more bridal bliss, check out my Behind the Veil bridal video series and Wedding Wednesdays. You can also follow me on Facebook, Pinterest and Twitter, too.